A Day In The Life Of Elvie, Greymouse Web Developer
Published by: Greymouse Marketing | 20 December, 2021
"Today is not just another day. It is a new opportunity, another chance, and a new beginning. Embrace it."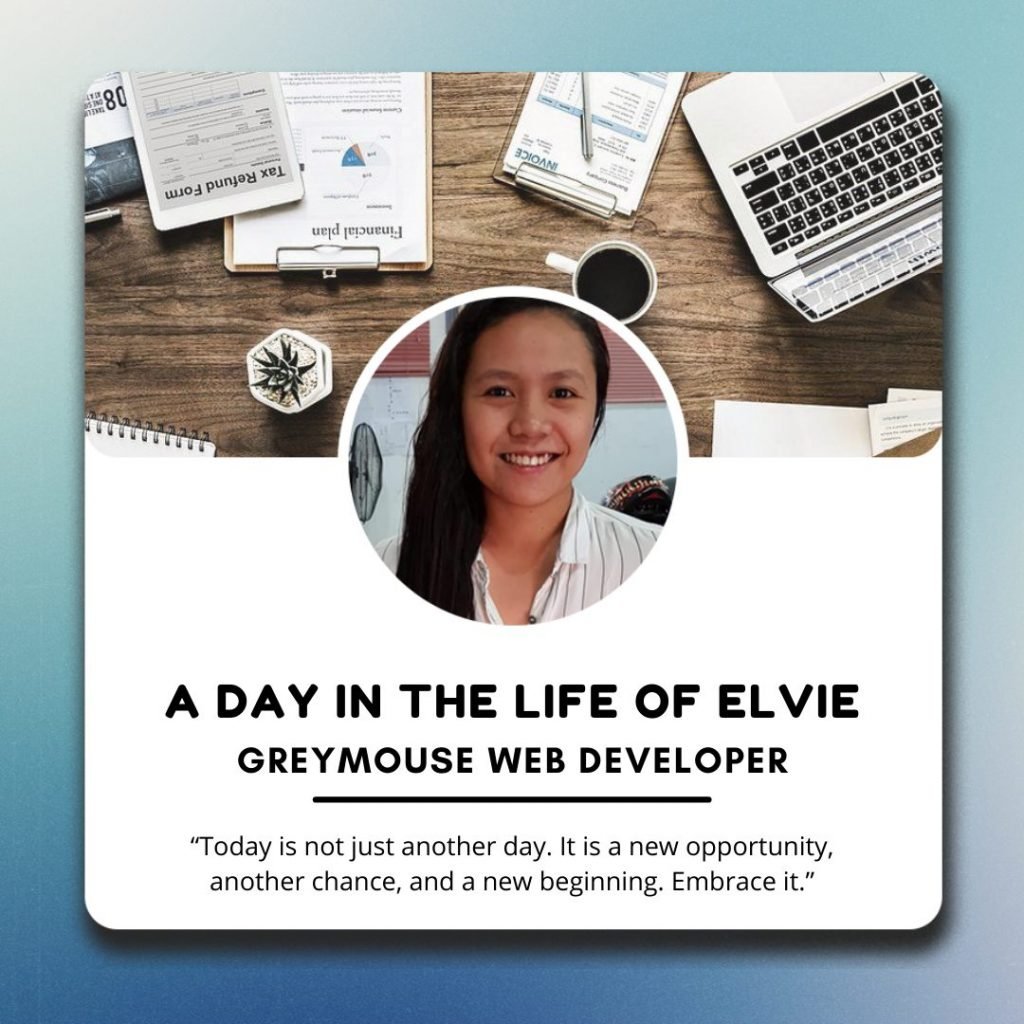 The majority of modern-day businesses need a substantial digital presence to not only help increase their audience awareness for their company or brand but also strengthen its credibility. Hiring web developers is crucial because they are the people with the right expertise for building functional, responsive, attractive, and user-friendly websites.
Elvie landed her first job as a Web Developer in Greymouse right after her college graduation and it has been two years since. As per Elvie, starting off on a clean slate is always great especially when you have a company that looks after your welfare and professional development.
Elvie mentioned, "Of course, starting work as a fresh grad helps bring out brand new ideas to the table and having the aptitude for technology has come in handy for me especially with my profession. As Web Developers, one should be up-to-date with technologies and it's crucial to spend time researching new techniques. You should be familiar with software programs and how computers and web servers operate."
From building the back-end of website pages to finessing how the pages would look like, Elvie keeps us and our clients ahead of the game. Elvie is responsible for turning how clients envision their websites to be—and that includes modifying the code of an existing asset or troubleshooting an error or working hand-in-hand with copywriters. As per Elvie, while writing code is a big part of the job, interacting with designers, illustrators, copywriters, and other personnel who are also involved in the planning process is an essential piece of the puzzle.
"At Greymouse, I was able to learn a lot more than just creating and maintaining websites. Being a fresh graduate opened me to new perspectives— this while having a strong thirst for learning." Elvie mentioned. "Fortunately, with the best team and team manager, I gained a strong support system that helped expand my skills and conquer my weaknesses, too," Elvie added.
The work schedule is typically far from the usual routine. As web developers, you may often find solving problems as they arise however, schedules and deadlines can also apply to bigger projects. It's important to keep your clients updated on projects, briefings, ideas, and budgeting. This will create a better overall environment between you and your clients and ensure that they are up-to-date with what you're doing.
Aside from being a Web Developer, Elvie also works on different CRM platforms like ActiveCampaign, Mailchimp, iContact, Infusionsoft, cPanel and more. She believes that being eager to learn, being patient as well as showing professionalism always are important characteristics an individual should have at work. Elvie added: "One piece of advice I can give to my colleagues would also be to trust their team leader and talk to them often. Communication is really important— that's how I can get the right help and guidance from the team." When asked what the process of making decisions seem like for her, she said that it's important to always consider the outcome and how it will affect you as well as others. As per Elvie, "I am part of a team so it's always best to consult with them first before making any decisions. Opinions are always welcome."
The growth of the e-commerce market and mobile technologies have paved the way for increasing demand for web developers especially in this pandemic where everything is much more convenient if you can access it from the comfort of your home. More and more companies are starting to rely on expanding their online presence and creating user-friendly websites to help attract a larger demographic. Considering the high demand for web developers in the current workplace, choosing this career path is a savvy choice!
Greymouse offers web development services that won't be too burdensome for your business budget.
Aside from her personal life goals, her family is the prime reason why she is really motivated. Her daily mantra would be to never deprive yourself of the rest. "It's really important to not quit on things so easily— taking a rest to get away from stress is always good and it's really important that you're listening to what your body needs so you would be able to stay productive and focused all throughout," Elvie added.
Elvie added, "It may have very challenging pathways but you can only anticipate a very rewarding and joyful journey." She continued saying, "Becoming a developer is one of the best decisions I've made in my life with no regrets, and this celebratory moment does not belong only to me, but also to everyone that helped me along the way."
Elvie believes that reaping the fruits of her hard work is her proudest accomplishment. Looking back and seeing how far she is from where she used to be, keeps her excited about the future ahead. She also believes that Greymouse will be more successful in the coming years and will stand out as one of the best outsourcing companies around the world. It may have very challenging pathways but you can only anticipate a very rewarding and joyful journey. "Becoming a developer is one of the best decisions I've made in my life with no regrets, and this celebratory moment does not belong only to me, but also to everyone that helped me along the way."
"I can think of many words that have become part of this moment and of my every day: happiness, growth, learning, listening, resilience, humility, kindness, optimism, teamwork… but the most important of all these words for me, is gratitude!"
Elvie leaves us with "If opportunity doesn't knock, build a door."