A Message of Thanks On Our 17th Anniversary
Published by: Greymouse Marketing | 7 May, 2022
Tough times don't last, tough teams do!
There are lessons to be learned from the past and I think for Greymouse it comes down to two things— having big dreams and believing that you can achieve it. The idea of outsourcing was very vivid to Marisa's mind that it stuck to her for years until technology became more convenient and powerful enough to help operate the business she wanted to pursue. We made dreams come true by turning them into goals and strategies we can action.
So, on the 8th of May 2005, we made Greymouse a reality.
As we commemorate our 17th founding Anniversary, I would like to thank the Greymouse team for their commendable performance during the past year. As the General Manager, I am very proud of the way the company has evolved and risen to the challenges even in the face of adversity— because we dreamt passionately, our mistakes were turned into lessons, and we got back up and show perseverance after.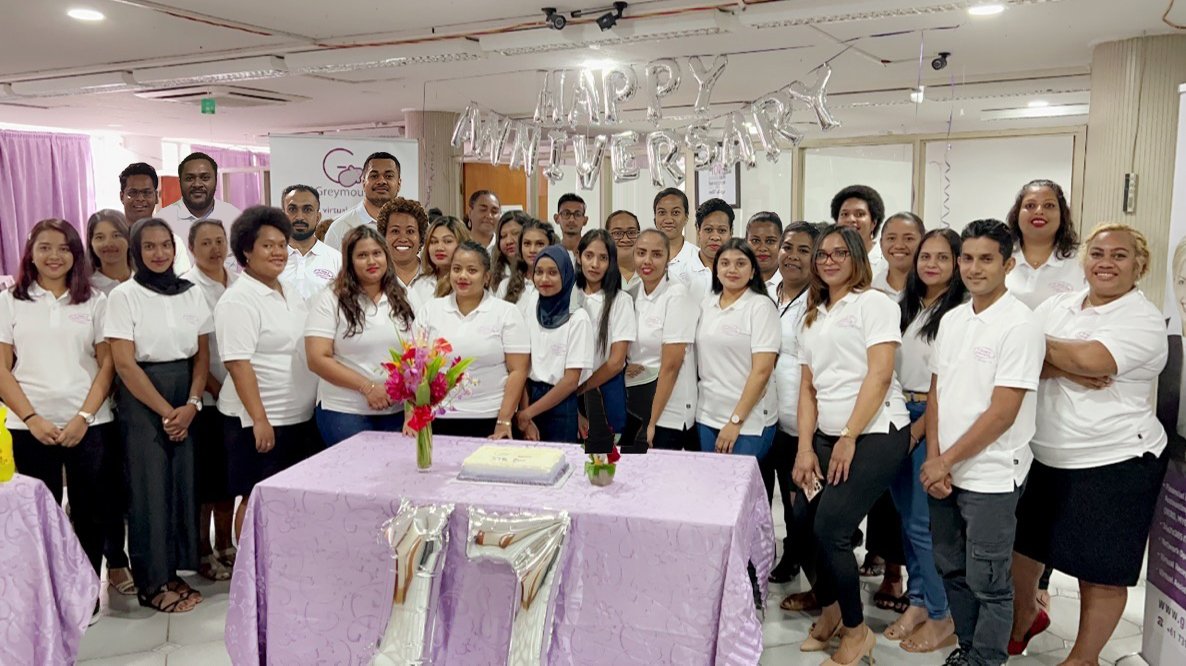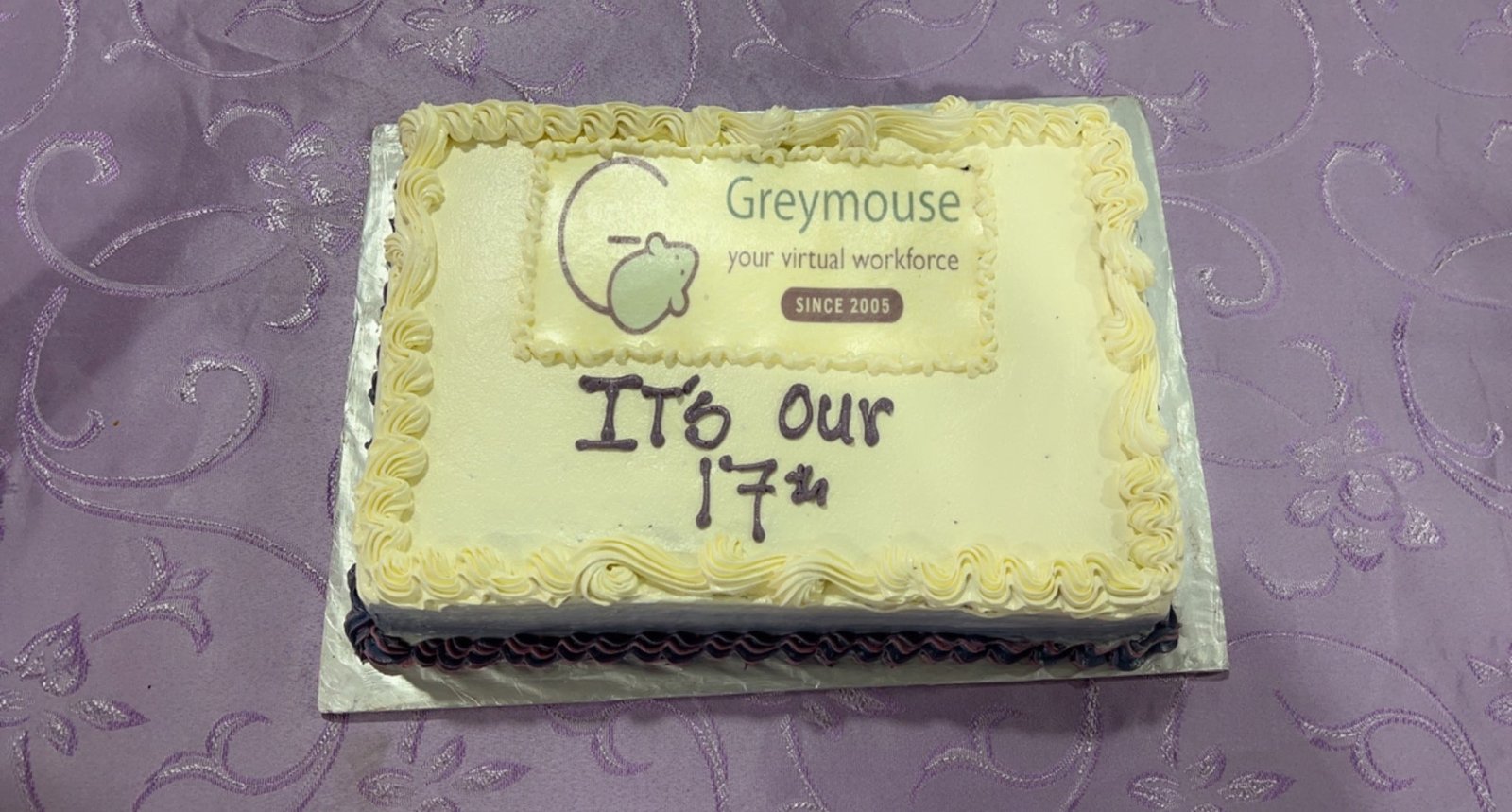 Because of the team's professionalism, dedication, courage and patience, this served as an inspiration for us.  We also owe thanks to Marisa and Kelvin for creating Greymouse that helped transformed many lives. Greymouse played a significant role in the industry— being the pioneering BPO in Fiji and at the forefront in the delivery of various possible outsourcing roles. Greymouse has also been setting high standards in providing outsourcing services and even, employment since then. Considering the magnitude of its contribution to the economy by alleviating poverty through transformational jobs, I am sure that there are so many celebrations out there than in the company, as well as moments we are proud of as members of the Greymouse family.
It is our pride that the company's vision is prestige and has potential. This important role of Greymouse provided me with the right motivation and inspiration to lead the company.
Passion. Determination. Values.
These ideas we share universally together to achieve prosperity and realize dreams for all.
MESSAGE FROM BOTH THE FOUNDERS OF GREYMOUSE
It all started with an idea— a commitment to empower people through life-changing employment.
Let us hear from the founders of Greymouse, Marisa Wiman and Kelvin Davis.
It has been 17 years since we have been providing clients with high quality, time-sensitive and cost-effective services. 
Check out our Anniversary special running for the whole month of May and enjoy our services to the fullest.
Overwhelmed with the choices? We have the perfect plan just for you! Give us a call NOW!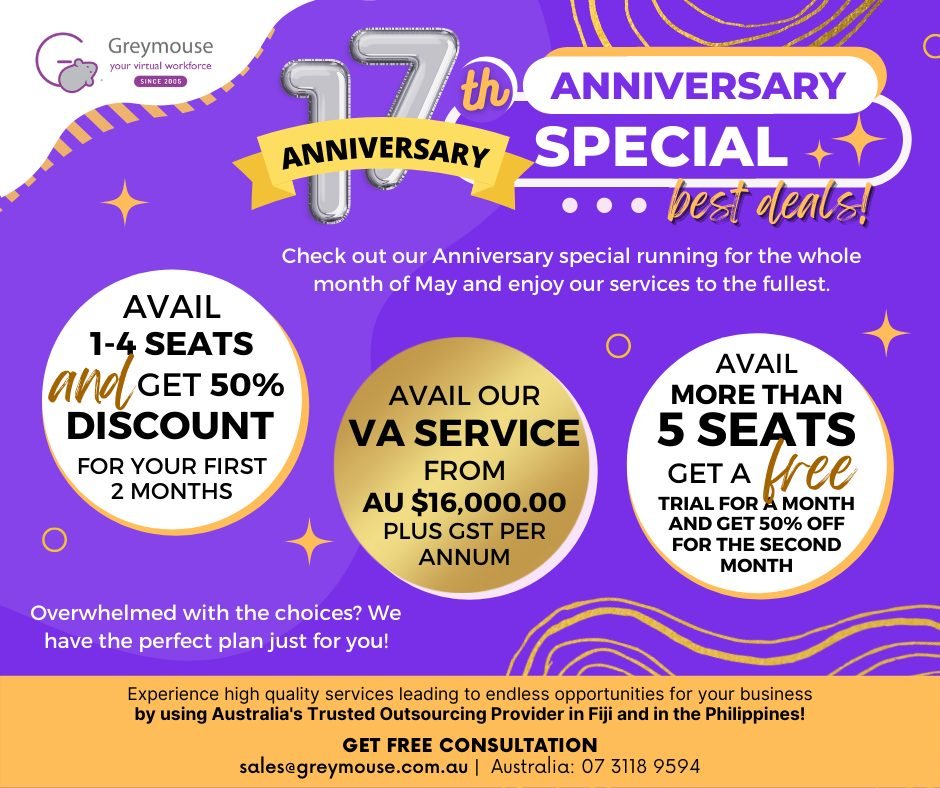 We would like to thank our clients for their overflowing trust and support for many years. We are honored to be part of your growth and success! We can only do our best from here and strive to reach beyond what you expect from us.
To our employees: The journey may not have been easy especially in light of the pandemic that has challenged our lives, but Greymouse is always grateful to have a team of talented, dedicated and passionate people every day. You understand how important our clients are and your corporate values are what contributed to Greymouse' s progress and success.
We would also like to convey a message of thanks to our suppliers, colleagues, family and friends who have supported us through and through.
We could have not achieved these great heights without the unwavering support! We are overwhelmed of how valuable we have been to everyone and we are glad to be able to share this momentous occasion, our 17th Anniversary with you all. We would have not been here today without your contributions to Greymouse.
– Faiyaz Khan, General Manager